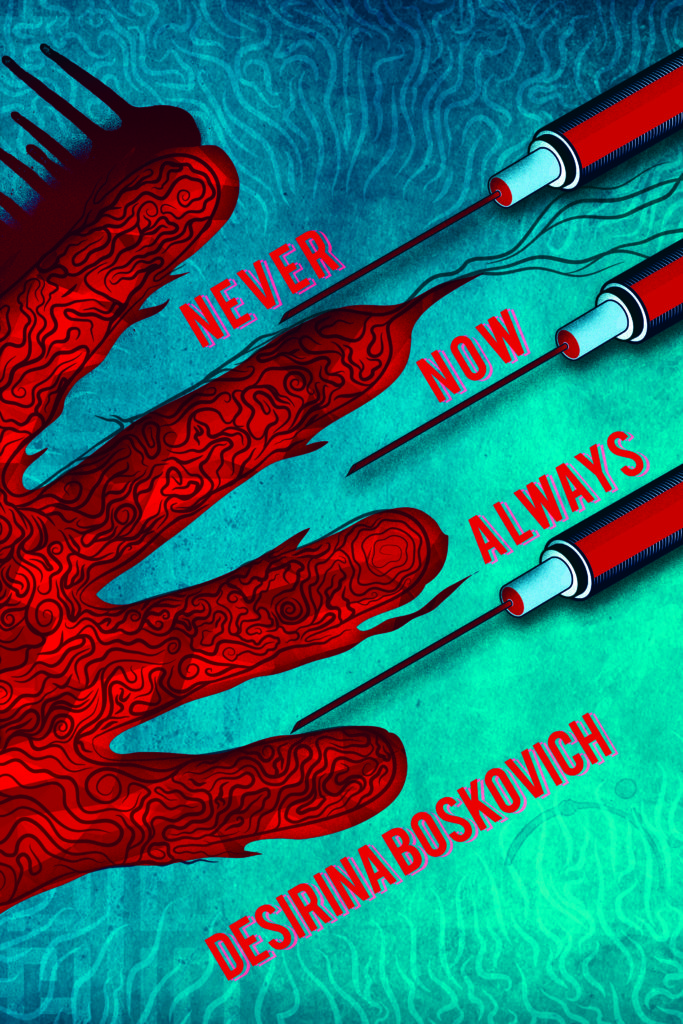 Words. Memory, Identity.
They came. And they took away our story. And they rewrote everything: all minds, all lives, all history. Everyone forgot.
But in this now, Lolo must reclaim her stolen words—her stolen family—from the silent Caretakers. She must call out to all rapt children, "This world is hell. Let's run." When the words needed are forgotten, lying unknown, when memories flit like smoke, how can she recover what is lost? She must. To live in this nightmare without a story would be too much to bear.
Read an excerpt at Weird Fiction Review.
Available in paperback and e-book from Broken Eye Books
Buy from Amazon | Buy from Barnes & Noble | Buy from IndieBound 
Praise for Never Now Always
"Boskovich's haunting novella is a stylized meditation on time, memory, and the bonds of family, both by blood and by choice. … Lolo's voice is gripping, sometimes pared down to its bones and sometimes expansive and beautiful." (Publisher's Weekly)
"Never Now Always is an intriguing puzzle, as layered and elusive as memory itself." (Molly Tanzer, author of Vermilion and Creatures of Will and Temper)
"A pitch-perfect marriage of science fiction and horror, Desirina Boskovich weaves a disturbing and provocative evocation of childhood trauma, dehumanization, and lost time that resembles nothing so much as the future of weird fiction. Like all the best stories, Never Now Always is written in blood." (Robert Levy, author of The Glittering World)
"Lots of books are scared—scared of not selling, scared of giving offense, scared of being too weird. Never Now Always is fearlessly bizarre and completely itself, a lysergic word storm that feels like science fiction finally remembered the promise it made back in the New Wave Sixties to boldly go where no one had gone before." (Grady Hendrix, author of Horrorstör)
"A heartrendingly beautiful exploration of how memories shape our consensus reality, and how our past continually slips away from our minds like sand through fingers." (Matthew Kressel, author of King of Shards)
"An incisive story about identity and the tenuous line between dreams and reality, Never Now Always is as brutal as it is beautifully written." (Gwendolyn Kiste, author of And Her Smile Will Untether the Universe)
Related Interviews, Blog Posts and Podcasts
The Outer Dark Episode 018: Walking Reality's Festering Fault Lines … with a Dog (audio), September 2017.
Interview with Unnerving Magazine for NEVER NOW ALWAYS, September 2017.
Interview with Melanie Meadors at The Once & Future Podcast, September 2017.
Interview with Gwendolyn Kiste for NEVER NOW ALWAYS, August 2017.
Miskatonic Musings Episode 179: Doctor-Patient Confidentiality, July 2017.
NEVER NOW ALWAYS on Scalzi's The Big Idea, June 2017.
Interview with A.C. Wise for NEVER NOW ALWAYS, June 2017.
SaveSave
SaveSave
SaveSave
SaveSave
SaveSave
SaveSave